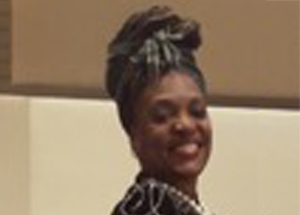 Marcia is a native of the twin island Trinidad and Tobago. Migrated to the USA in 2010. She has various backgrounds but the one which brought her to this country was physical fitness which lead her to massage therapy.
Having attended the Baltimore School of Massage and graduated, pursued her career which is her passion in the world of massage and healing.
Marcia has developed her skills by continued education in various techniques and training. She started her career at the Franchise Massage Envy and stayed there four years, two of which she was assigned the Lead Therapist position and was the first Employee of the month " May 2013 " being in high demand always.
Her passion for what she does lead her to also pursue and acquire the skill to become a certified Colon Hydro Therapist. She worked at Nature's Rhythm providing this service part time to clients.
As a massage therapist she provided services and participated in various events to name a few;
Best Buddies International Cycling Event Oct' 2013 ( sports massage for athletes ) Leesburg VA.
CDI Health and Wellness Source event ( Healthy Mind, Bodies and Finance ) Augʻ 2014 ( chair massages ) Lanham MD.
Defense Health Headquarters ( DHHQ ) health and wellness day for staff. Aug' 2014 ( chair massages )
Cheverly Community Market Sept' 2015 ( chair massages for patrons ) and many more.
Marcia has her own practice ( Cherubim massage) and continues to provide service to her clients with Honesty, Compassion and Awareness.
Member of Massage Magazine Plus.
Licensed Massage Therapist
Certified Colon Hydrotherapist
Certified Medical Massage Practitioner
Diploma in Myoskeletal Alignment ( Freedom from pain Institute )
Certified Lypossage Practitioner
Licensed Practioner of Niel-Asher Technique ( NAT )
Certified Lymphatic Drainage Plus Practitioner
Marcia is also a Licensed Financial Consultant with First Financial Security Inc and the LISA Initiative and is certified by the National Financial Education Counsel as a financial Instructor, Informing , Educating and Empowering families in all backgrounds on financial literacy.
Marcia P. Renne
8820 King George Ct
Pomfret MD 20675